Let's take an quick overview all about virtualization - the different types, benefits and how to get there today in your small business. We have already written quite a few blog posts about it, but this one brings them all together.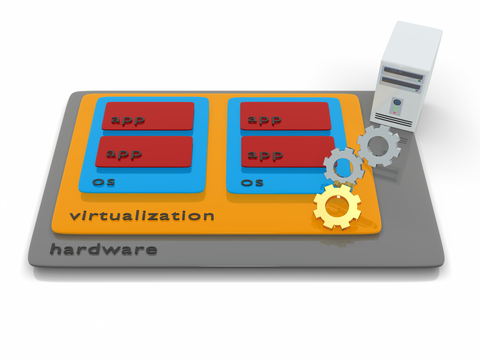 Server Virtualization
The number of physical servers you need to run your business can be significantly reduced by using virtual servers as the picture above shows. This provides great savings in power and cooling and offers very fast recovery time. Check out the following blog articles for more information:
Small Business IT Virtualization - A Path To Savings
For a discussion on virtualization costs and return on investment, see these posts:
Virtualization And Small Business Benefits - Dollars And Sense
Will Virtualization Cost More Than A Standard Network Installation?
To understand how server virtualization works and what is needed, read these articles:
Small Business Virtualization Example - How To Do It All On 1 Server
4 Core Vs 6 Core - Why More Is Less For Small Business Virtualization
For a discussion on virtualization security, refer to this article:
Things To Consider When Virtualizing - #1 Security
To understand the organizational implications of virtualization, see the following:
IT Services Department: Replaced By Virtualization?
For a fun use case, read:
The Benefits Of Virtualization: Company Optimization And Harry Potter
Storage Virtualization
Storage virtualization pools physical disks and makes them accessible as virtual drives saving money, increasing reliability and improving efficiency of IT personnel. This blog article explains in more depth:
Storage Virtualization Benefits for Small Business IT
Endpoint or Desktop Virtualization
Virtualization of the endpoint comes in many forms and by many names - client, endpoint, desktop and operating system virtualization are all used. This article talks about a typical use case:
Small Business Endpoint Virtualization - Smartphones, Tablets And PCs
For a discussion on alternative implementations, see the following posts:
What is Desktop Virtualization? VDI vs. Session Virtualization
How does Desktop Virtualization Work to Improve Productivity?
What are your virtualization plans?
Key Takeaways:
Server virtualization dramatically reducing power and cooling costs and improves recovery time

To maximize utilization of information infrastructure, turn to storage virtualization

For mobility, improved efficiency and reduced risk, endpoint virtualization is a great solution