Is the IT services department replaced in a small business once we consolidate servers, storage or endpoints through virtualization? This would be conflating two separate issues. While server, storage and endpoint virtualization all reduce the number of physical devices needed to serve a small business and ease management of infrastructure, the question of whether to have an in house IT department is orthogonal.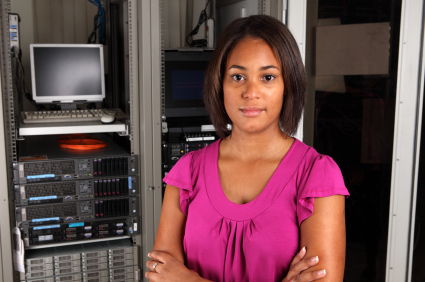 As such, small business owners might ask is if the organization is achieving maximum productivity, functionality, return on capital investment and minimal risk for their business from technology. Virtualization in all of its forms is only one means of enhancing the value of the business across the areas mentioned above. What role does the IT service department play in driving business value?
One useful rule of thumb is that a company with fewer than 50 employees should strongly consider outsourcing a significant amount (perhaps all) of their IT. This is because it is very difficult for a company of this size to achieve the business results that a managed service provider can through automation, process and focus. For larger companies, the economics of managed services may suggest more of a complementary approach with some level of internal resources focused on strategic initiatives. Managed Service Provider Solutions - Top 5 Benefits to Your IT Staff discusses this further.
It is a common concern for IT departments adopting technology that increased efficiency may displace the need for human intervention. The real issue issue is about driving value in the business. The problem is that it requires introspection to understand the gaps and sometimes those who do not know live and breath IT do not know where to look. Is your IT infrastructure driving as much value as it can in your business?
Key Takeaways:
Reduced IT management enabled by virtualization is a different issue than IT outsourcing strategy
Most small businesses IT infrastructure does not maximize productivity, functionality return on capital investment and minimize risk
It is difficult for companies smaller than 50 employees to have in-house IT that is as efficient as automated, process-driven managed service providers
Five Things You Must Know When Virtualizing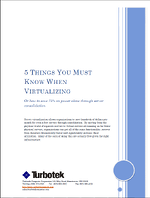 Our white paper will teach you
5 key things to consider when virtualizing!
Download the free white paper to learn how to
make painful, day long server recoveries
a thing of the past!