This is a great question that small business owners and IT leaders often pose. In fact, virtualization cost is substantially less, both initially and over time. In one recent example, Turbotek consolidated four servers into one through virtualization. Had the customer refreshed their servers with individual machines for Microsoft SQL Server and their three existing terminal servers, it would have cost them over $50K. With virtualization, it cost them roughly $29K. In addition, they are saving nearly $500 per month on power, cooling and space. Finally, there are other benefits reviewed in Virtualization And Small Business Benefits - Dollars And Sense that include substantially faster recovery time, potential tax incentives and increased agility, flexibility and efficiency while reducing risk.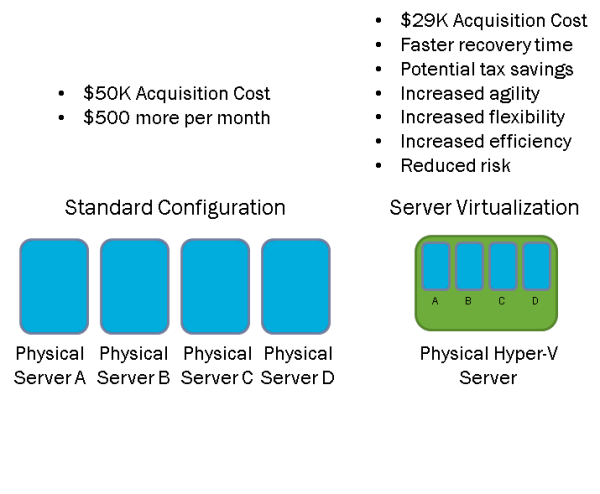 So, for a server refresh scenario (e.g. to accommodate a new version of software, age, etc.), virtualization is a clear best practice. Even if there is not a current plan to refresh servers, customers may finance the purchase through a lease and save the same or more money in operating costs than the cost of the lease. This gives at least a cost-neutral technology upgrade which provides all of the other benefits that are strategic, but may be a little harder to quantify.
Download "5 Things You Must Know When Virtualizing" to learn:
How to save up to 75% on power alone through server consolidation
Why painful, day long server recoveries will be a thing of the past!