Just as server virtualization allows small businesses to abstract the individual computing resources from physical hardware, storage virtualization benefits for small business IT include efficiency and ease of management of their information storage resources.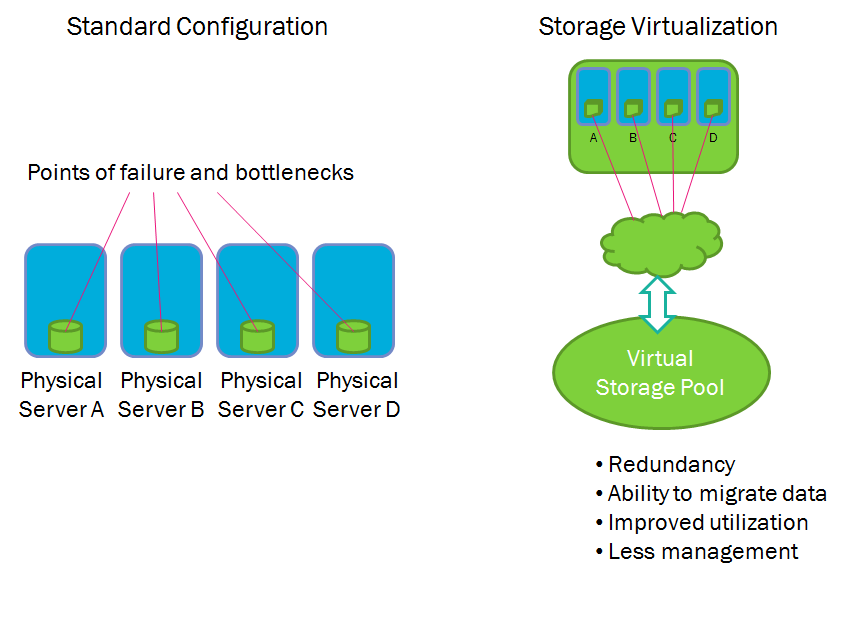 Typically, a small business will start with distinct computers or perhaps servers which each have local disk drives. The problem with such a tightly coupled system is that any disruption to those disk drives affects the operation of all computing resources tied to them. This means that should a drive fail, the accounting system could go down. While there are ways to build redundancy into individual servers, this becomes increasingly inefficient because the more servers there are the less the storage infrastructure tied to that server is used efficiently. By pooling storage in a virtual environment, small businesses will save money, have a more robust infrastructure in case of failures and increase the efficiency of the IT personnel (whether internal or external) by allowing them to manage storage in one place in a consistent manner.
Storage virtualization for small business also enhances the implementation of server virtualization for small business. Hewlett-Packard estimates that storage virtualization may increase utilization of storage assets by 300 percent! According to IDC quoted in the same article above, payback for storage virtualization could be in as little as four months. What is the utilization of your storage infrastructure?
Key Takeaways:
Storage virtualization increases efficiency and reduces management burden
Hard drives tied to individual systems become bottlenecks and points of failure
Increases in utilization of 300 percent are possible through storage virtualization