Hyper-V from Microsoft and vSphere from VMWare are the two main virtualization platforms available. Both are great products, but which is the best fit for virtualizing small businesses? Below is a chart that attempts to capture the relevant characteristics for small businesses as they consider what to adopt.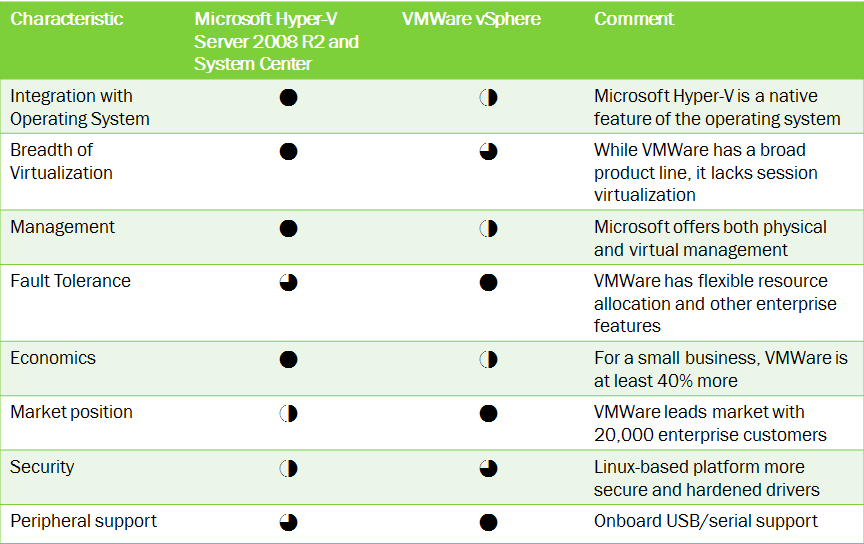 If you are not familiar with virtualization, check out All About Virtualization - Benefits And How To Get There Now.
As Microsoft has done in many other markets (e.g. browsers), they do a very effective of job of turning a category into an operating system feature. As such, Hyper-V is a native part of Windows Server 2008 R2. In addition, Microsoft has a superior breadth of virtualization (e.g. session virtualization) and management (both physical and virtual) as compared to VMWare.
For enterprise-class customers, VMWare is a very solid solution offering superior fault tolerance, more experience, better security and onboard support for peripheral devices. The tipping point for the small business is often the economics. Microsoft Hyper-V is typically at least 40% less expensive for small businesses to procure and there are no particular vSphere features that drive total cost of ownership below Hyper-V.
What is your virtualization platform?
Key Takeaways:
Microsoft virtualization works seamlessly as part of Windows Server 2008 R2, is broader in scope and management
VMWare is more oriented toward enterprise-class customers
Microsoft Hyper-V is typically less expensive to deploy for the small business