If you are on Windows XP, should you upgrade to Windows 7 now? Windows 7 has been available for a year and a half today - see Windows 7 at 18 Months. In that blog article, Microsoft claims an average savings of $140.00 per PC per year.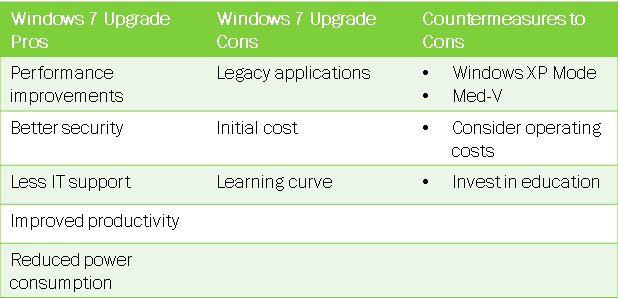 While it is easy to take the path of least resistance, there are some compelling reasons to consider upgrading to Windows 7 now. Forrester estimated that improved performance (search, startup/shutdown, etc.) saves companies nearly $300 per year per employee. Some of this savings is more applicable to enterprise customers, but even if only half the savings is realized by a small business, it can add up quickly.
While it is best for business owners and leaders to determine for themselves the value of security, native features like BitLocker have the potential to reduce data loss and the subsequent costs associated with addressing such incidents. Help desk costs (whether internal or external), are reduced on average by 2.5 calls per new machine according to Forrester. This could be an incremental $50 or more savings.
Finally, as discussed in What Does Green IT Mean For Your Small Business?, Windows 7 may save as much as 25% in power over Windows XP due to improved power management. So, with all of these benefits, why do companies continue to use Windows XP?
Some of the big reasons holding small businesses back are legacy applications, initial licensing costs and learning curve. There are a number of countermeasures to these issues including operating in Windows XP mode or deploying Microsoft Enterprise Desktop Virtualization. This allows organizations to run and manage Windows XP mode across their entire organization.
As for initial licensing costs, when put in perspective with the overall savings outlined above, they become less of an obstacle. Forrester estimated a 129% return on investment from Windows 7 upgrades. In order to achieve this return, investing in employee education is critical. For less than $70 per employee, organizations may enable workers to not only migrate from XP, but learn new ways to enhance their productivity.
What is holding your organization back from Windows 7?
Key Takeaways:
Windows 7 may save $140.00 per PC per year over Windows XP

Improved performance, better security, reduced IT costs and better power management lead to a positive ROI for Windows 7

Mitigations for obstacles to upgrading from Windows XP include operating in Windows XP mode, looking at the total cost of ownership and education
Sources: Microsoft, Forrester, Turbotek Analysis
Free 2011 Small Business IT Optimization Guide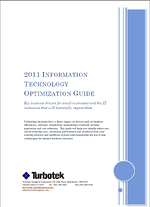 Learn practical tips on what technologies
you could be applying to drive your business
this year
Download the free white paper to learn how to
turn your IT from a cost center into a profit
driver.