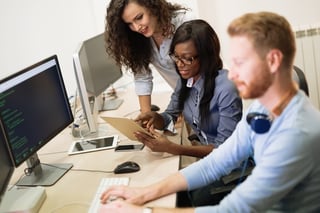 Proactive support is not a new concept, and yet, it has lacked in the IT field as most of those within the industry follow a break-fix model. Changing the way support has been may also mean changing the way business is done on a daily basis. Innovation can encourage a new way to meet consumer demands or improve current business practices that will ultimately make you and your business more successful.
Is Proactive Support Important?
Yes, is the resounding answer. When you encourage adopting a proactive best practice, as a business, you will ultimately decrease overall support calls and requests. Not only will you identify problems before they cause productivity issues, you will also be able to find a resolution without the same pressure that exists in a break-fix solution.
Externally, your consumers will appreciate your proactive approach as well. People will talk about how much they enjoy and appreciate working with you. Word of mouth holds a lot of clout, especially when your clientele knows you are reliable and tells the world, thereby also increasing loyalty.
What Are Some of the Benefits of Being Proactive?
Should you decide to embrace being proactive in your business practice, you will work towards improved efficiency as well as performance. Listed are some of the more important points to consider in going for a proactive support approach:
Increased efficiency of resources
Being more competitive
Higher staff retention rates
Attracting new consumers
Continually matching fluctuating conditions
Within the IT field, if you have a system that goes down or a network issue, use of resources becomes lacking, and you can incur significant overhead. With a proactive approach, you can spot a problem beforehand and ensure that you don't have a dip in efficiency or productivity. Maintaining productivity also means that you'll be more competitive with others in the industry simply because of lower costs associated with higher efficiency. Staff retention will be higher because of improved efficiency resulting in problem-solving being encouraged. When encouraging proactive support in the field, you'll have end-users that recognize you are always keeping up with the evolution that is inherent within IT. Staying up-to-date with existing and up-and-coming technologies will also attract more customers who appreciate embracing innovation.
How Can You Make the Shift?
Making the transition to proactive support as opposed to reactive support can be done over time in stages if necessary. You can start by engaging with your employees and getting their feedback. Find out what they feel is lacking or what can be improved with a proactive support approach in mind. Also, go over existing processes and determine where improvements can also be made; get help if you need it. Most importantly, have a process in place that encourages best practice for a proactive approach.
To summarize...
Break-fix models are not necessarily best practice anymore
A proactive approach encourages efficiency and productivity
Benefits to changing your current business model are good for business
Shift your mindset by reaching out to employees and those that are experienced for assistance