Exchange mail flow is subject to failures at many points. Following are five things you can try to get e-mail to the intended recipient now.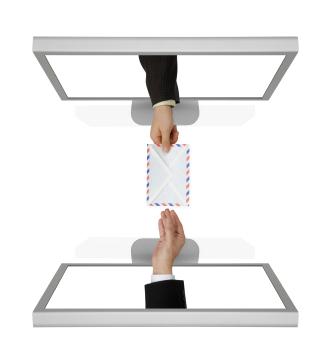 Check services. Microsoft Exchange has services, or background applications, that handle everything from connectors to other mail systems to different mail protocols. One service, Microsoft Exchange Transport, is fundamental for e-mails to flow correctly and is often the culprit when they are not. Restarting the service often resolves the problem.
Make sure you have not been blacklisted. While being blacklisted no longer involves being executed as in the times of King Charles II, it can be just as devastating for a small business. Blacklists are a way of preventing SPAM, but there are cases in which a legitimate business may be incorrectly blacklisted. This may happen if a spammer has routed unsolicited e-mail through your infrastructure or if your IP address is close to that of known spammers. Mx Toolbox has a good blacklist checker that you may try out to see your status. It is often possible to get removed from a blacklist by contacting the owner of that list.
Understand and eliminate network failures. E-Mail flow is a complicated process which starts at the client of the sender moves to the e-mail server, to name servers, to recipient e-mail servers and finally to the receiving client. A failure at any point may delay or prevent e-mail flow. A common error message is "Could not deliver the message in the time limit specified."
Check your Internet connection. Another common symptom of e-mail flow problems is being able to send and receive e-mails internally, but not receiving external e-mails. This is particularly difficult if you do not receive a lot of e-mails from outside sources and have no way of knowing that you have a problem. One common reason for this problem is simply an Internet connection that is down. This is easy enough to troubleshoot by verifying connectivity to external Web sites.
Confirm that your Microsoft Exchange server has enough space. If there is a full hard drive on the e-mail server, it will not be able to function normally. This may be caused by a backup application that is creating logs which grow unfettered. It is critical to proactively manage the health of the infrastructure to prevent this type of problem.
While this is just a taste of some of the issues that may prevent smooth Exchange mail flow, it may point you down the path to resolving some common issues. One way to prevent these types of problems from happening in the first place is through small business remote network monitoring. To deal with issues that already exist your network administrator may help or you could seek help from small business IT managed services.
What e-mail problems do you have?
Key Takeaways:
Key services, or background applications, need to run properly for Microsoft Exchange to function
Blacklisting used to prevent spam, will prevent e-mail delivery
Network failures, including Internet connectivity, may be the culprit of e-mail problems
Having a healthy server infrastructure with enough storage is also needed for smooth e-mail flow