If you received e-mail service with your Internet service, choosing POP3 vs Exchange 2010 is something you may have considered. Here is a guide to help your decision process as well as a brief discussion of Microsoft's Office 365 offering for e-mail.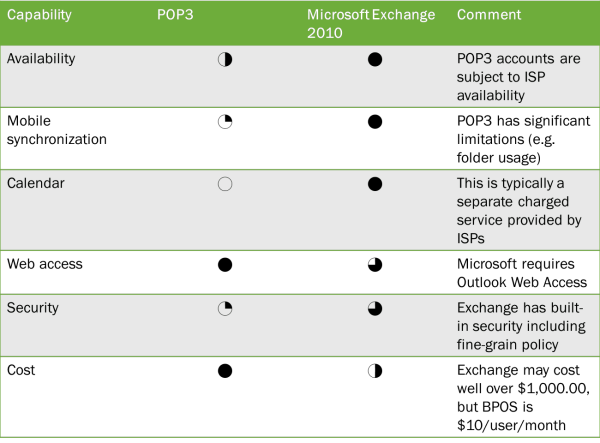 Office 365 (parts of which currently available as Business Productivity Online Suite or BPOS) is a hybrid option of getting hosted Microsoft Exchange Online which provides the best of both worlds - low cost Webmail with many of the features of an on-premise Exchange server.
Note that we are intentionally oversimplifying this discussion by mixing a protocol (POP3) with a server technology and also talking about client-side capabilities. To be precise, we should say Webmail or something, but that is too generic, perhaps. There is another protocol called IMAP which adds additional functionality, but it is also typically more expensive than POP3. For additional information, here is a comparison of HTTP vs. POP vs. IMAP vs. Exchange.
Rather than focus on the low-level details, the idea is to consciously assess your e-mail requirements and make sure that the technology being used fits the task rather than just going with the default.
Which e-mail technology do you use and why?
Thanks to @rbergin for helpful comments on the topic!
Key takeaways:
Assess your e-mail needs around availability, mobile synchronization, calendaring and the like when choosing a technology
Microsoft Exchange is more robust and feature-rich and more expensive than typical POP3 (or IMAP) Web mail offerings
Office 365 may offer a happy medium