Organizations may utilize IT services for small business in many ways, including break-fix, selective managed services and fully outsourced.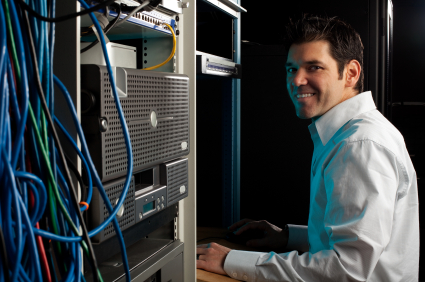 Here are seven reasons to have an on-going agreement with your service provider:
1. Proactive management of infrastructure
As has been discussed in Computer Services For Small Businesses - 6 Steps To Proactivity, operating in a break-fix mode is more expensive and subject to higher downtime than proactive management of infrastructure. Due to the complexity of network, network device (e.g. routers, switches, etc.) and server configurations and use, it is important that such an infrastructure be cared for on an on-going basis. Manufacturers release firmware updates, operating system providers produce patches and combating security threats is an on-going battle. Doing all of this proactively is far more economical than having to react to a situation that happens at an inopportune time (it often does and can lead to more expensive off-hour or weekend work).
2. The assurance of knowing in a down situation someone will be onsite
Good managed service providers (MSPs) will give scheduling preference to contracted customers. This is a great safety net to deal with unexpected down time. Despite the best proactive measures, there will always be unexpected downtime unless one is willing to pay for fault tolerance. Being at the whim of available resources of a break-fix provider can be quite painful given that most small businesses have come to rely on their IT systems for sales, inventory management, purchasing and other mission-critical needs.
3. The ability to have advanced warning of hardware failures through remote monitoring
One of the value-add services routinely offered by MSPs is remote network monitoring. This is yet another step in the direction of true proactivity. Even before a technician steps on site, if the network operating center is monitoring your infrastructure for potential faults, you are able to replace hardware before it goes bad, clean disks may be before running out of space and purchase additional licenses before a user is unable to complete her job.
4. On-demand support
A dependable MSP has staff available when they are needed. This eliminates the need to hire additional IT staff or, in some cases, have an IT staff at all. Long-standing MSPs often have over one hundred years of combined technical service years. This is difficult for many small businesses to replicate through an insourcing strategy.
5. Fixed expense for IT needs
Depending on the contract, a standing agreement may help the company using it with better visibilty into their IT expenses. By having a recurring monthly expense, it is easier to predict expenses throughout the year. This is very helpful because expenses impact profit which impacts cash needs. Whether a small business is in a growth phase or a consolidation phase, having good control of cash may be the highest priority of the business owner.
6. Benefit from the expertise of specialists
Technology is paradoxical in that it is constantly changing yet, in some cases, it lasts far longer than expected. Microsoft has stopped supporting everything older than Windows Server 2003 and Windows XP, yet there are sometimes cases in which older products are required to support legacy systems. On the other end of the spectrum, most business owners do not yet fully understand the implication of the cloud. Outside specialists who have supported many generations of technology can be a great asset to an organization.
7. Extensive preventative checklist
Finally, returning to the theme of proactivity, the whole idea of engaging with a MSP is to prevent problems before they happen. A necessary condition for this is to have a repeatable, time-tested process to determine what issues to investigate that have the maximum probability of catching potential problems before they occur. This ranges from patches to information security to system performance characteristics.
Ultimately, small business owners want to focus on serving their customers and other stakeholders. Engaging an MSP in an on-going agreement is a great way to eliminate the IT burden and focus on core competencies. What reasons would you add to having an on-going relationship with your IT service provider?
Key takeaways:
Proactive managed services are less expensive and enable less down time than break-fix
Good managed service providers offer favorable scheduling for contracted customers which provides a safety net for unexpected downtime
Being able to forecast IT expenses through recurring payments can be very helpful when managing cash flow