Unfortunately, when it comes to small business computer services, many owners, CEOs and presidents fall into the trap of short-term thinking.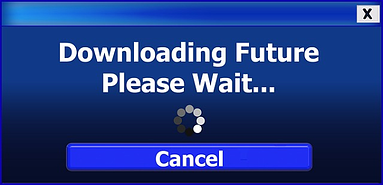 All too often, I call or meet with a small business leader and try to engage in a strategic discussion about their business, but am driven to the tactical. They frequently describe that there is a project coming up that will either solve the business' problems or that they have no bandwidth to talk beyond that.
The complication is that more often than not, projects create new problems along with resolving previous challenges. Projects are important, but as I discussed last week, the process is really what drives cost savings, particularly around employee productivity. I was meeting with one of my senior employees talking about the challenge of ruthless priotization in our business. As part of this, I drew the typical two by two matrix with urgency and importance as the axes.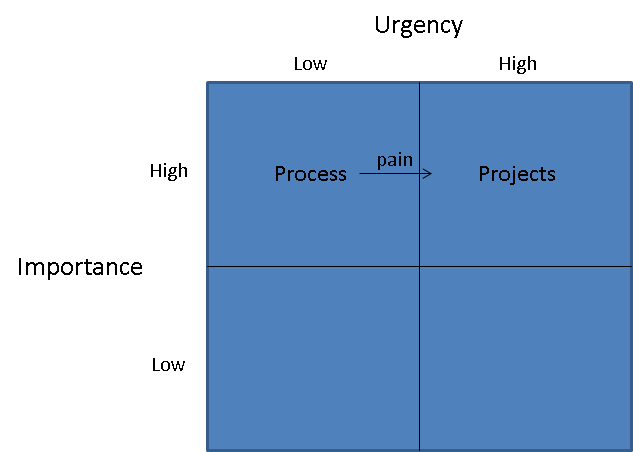 In the small business community, projects (Line of Business software installations, server upgrades, etc.) often fall into the quadrant of high urgency, high importance activities. Evaluating and improving the overall process may raise to the level of important, but often is not considered urgent. What tends to increase that urgency is pain.
I started talking to one of my current customers many months before they signed on. In these discussions we talked a lot about process. They had numerous problems like reactive support tickets being both high in number and aged, project commitments not fulfilled, and infrastructure not working properly. I asked them why they thought they had these issues. They admitted that their provider was small, reactive, and lacked a process to get to the root cause of issues. Knowing this, they still did not have the urgency to change. They had a long-standing relationship with this vendor and wanted to give them another shot. Unfortunately, this led to twelve days of downtime, due to another process problem - this time with backups. This certainly led to profit loss and when I finally met with the President and CFO, they had endured enough pain to change and signed up that day.
It saddens me that companies have to endure pain that they are unable to predict because of short term thinking. There is another way. By consciously reviewing what the current IT process delivers in terms of business results, we can determine whether there is exposure to significant pain in the future.
Key Takeaways
Due to business pressures, small business executives may suffer from short-term thinking
Companies often consider projects as the solution to their problems
Process improvment is, in fact, the sustainable long-term solution
It often requires severe pain to increase the urgency of process improvement