Over the last two years, we have conducted a study of small business computer services pain points. We interviewed 110 companies ranging from 20 to 100 employees. Representative interviewees included owners, CEOs, presidents, partners, general managers, CFOs, controllers and similar leadership positions. The pain points represent those most affecting business outcomes as reported by the interviewee. Verticals were wide ranging with everything from biotechnology to services organizations to manufacturing and technology.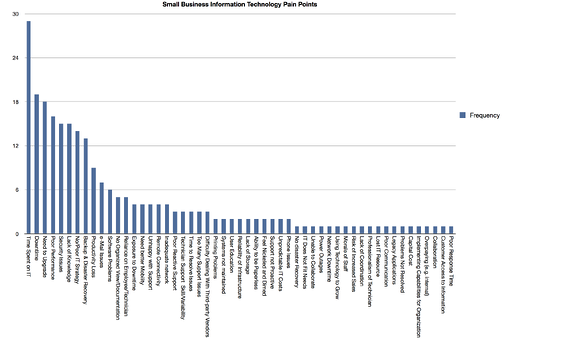 There are a number of things interesting about the results. The first is that there is such a long tail to the data. Each business has its own perspectives on how technology impacts them and describes their pains in somewhat unique ways. The second is that there is a clear pareto affect. That is to say, there are some high frequency pain points shared across many verticals in companies of various sizes:
Time spent on Information Technology (IT)
Downtime
Need to upgrade infrastructure
Poor performance
Security issues
Lack of knowledge
No or poor IT Strategy
Backup & Disaster Recovery
Productivity loss
There is a great deal to each of these points and some are interrelated, but these are really symptoms of IT processes that are out of alignment. One of the fundamental reasons that these problems occur is that the vast majority of IT processes in place at small businesses today are fundamentally reactive. This leads to an inability to get to root cause of problems, let alone put a sound strategy in place that continuously drives the number of issues down and the productivity of employees up.
Key Takeaways:
Research conducted over two years, across 110 companies in a variety of verticals
There is a long tail to the biggest pain points in 20 to 100 employee companies
Time spent on IT, downtime and lack of strategy are some of the high frequency issues
The pains that were discovered are symptoms of IT processes out of alignment that are fundamentally reactive