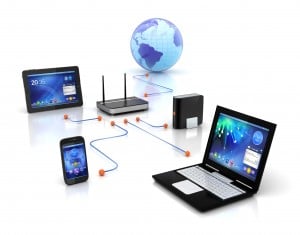 In today's economically optimistic, but still cautious small business environment, efficiency in information technologies is more important than ever. And the best way to capitalize on that efficiency is to make sure your small business IT support doesn't just detect problems in your network, it prevents them. Here are the five technology initiatives to best ensure maximum productivity.
Virtualization
A mature and viable option for small businesses, virtualization comes in three key forms. Server Virtualization allows multiple logical servers to perform the same function as a physical server, but at a fraction of the cost. Savings come from less space, less power, reduced cooling energy, and lower management costs.
Storage Virtualization has a similar efficiency benefit for small business IT support. Information is abstracted from the physical hardware, helping to save money on storage resources. But it also has the added benefit of reducing the risk of failure faced when multiple computing resources are coupled to the same physical system.
Small businesses should also be well versed in Operating System Virtualization, or Virtual Desktop Infrastructure (VDI). This allows users, through a series of virtual desktops, to share resources as they need them. Data is centralized, making data backup easier and more secure.
Cloud Storage and Services
The cloud has become a go-to solution for networked applications and data storage - but managing the cloud is more difficult than the solution providers would have you believe. The challenges come, not from figuring out how to implement features, but from knowing how to implement them safely and efficiently. The creation, installation, and management of IT in one singular place makes the cost and efficiency of having a third-party small business IT support company an appealing option. Businesses must also understand the potential pitfalls of the cloud - there is a loss of some control within the cloud, and you needs to be comfortable with the necessary security and privacy practices that it involves.
Social Media
With mobility and mobile marketing becoming increasingly important, don't make the mistake of ignoring social media. The network effect, easiest to illustrate with Twitter, is a valuable means of getting free marketing. A developed relationship with a Twitter user with thousands of followers of their own can lead to your valued tweets being re-tweeted to the masses. However, 'free' doesn't mean 'easy' and embarking on a social media strategy requires careful planning and ongoing diligence in following that plan. The key is to know who you're talking to, how to talk to them and then to keep up a stream of content.
Off-Site Storage and Disaster Recovery
First, the bad news: Up to half of all traditional data backups fail. But the good news is that developing a tiered approach to backup and disaster recovery is simple for small business IT staffs. Less critical data can still be backed up locally. But for critical data, redundant back ups for both on and off-site recovery are necessary. Which of course takes us back to the earlier discussions on virtualization and cloud use. Recovery is easier, and the instances of disaster are rare, since off-site backup utilizes the guaranteed services of experts.
Security Audits and Vulnerability
Large corporate security breaches get the headlines. But small business networks are where the majority of vulnerabilities lie. And one single security event can bring an entire set of users to their knees. Don't be caught picking up the very expensive pieces of a destroyed network when there are third-party analysts who can find and fill the gaps in your security at far less the cost. As is always the case, being proactive in prevention is the more productive path to take.
Key Takeaways:
3 types of virtualization can be used to improve efficiency - Server Virtualization, Storage Virtualization and Operating System Virtualization.
Cloud storage and services allow for distributed data and services, but you need to be aware of the security and loss-of-control issues that may come along with it.
Social media can create a networked marketing effect, but it must be planned and used strategically.
Off-site storage lets you more securely back-up key systems and can be easy to implement for a small business IT support team.
Being proactive with security audits will help prevent security events - something much too common on small business networks.