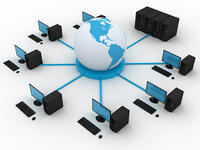 A client shared with me something that happened to him while he was on vacation in the Mayan ruins of Mexico. He received a call from his remote network monitoring agency while he was in the middle of those ruins, because one of his servers was down. He looked at this from the point of view that this call was awesome, because now he could get it fixed and his network monitoring provider was able to reach him wherever he was. Or he could have taken a step back and thought to himself: "Why did I even have to get called in the first place?"
The answer is, they didn't have a good IT process in place; they didn't have proper IT management. Yes; there are great remote network monitoring tools and providers out there that will let you know if there is a problem, but take a moment to consider why you have to be notified in the first place. If you are too focused on resolving problems, then you miss the point.
Do you really want to have to deal with technical issues for your business when you are on vacation? My guess is no. Many business owners and IT decision makers are focused on looking at the pain they are experiencing without looking at the cause of the pain. For example, they look at network service response times without looking into the networking defects that demand the need for remote network monitoring to begin with. While still addressing network problems, business owners and IT specialists should consider placing a greater emphasis on preventing problems by implementing more comprehensive solutions.
Network monitoring is one of many pieces of a large puzzle. So, it's not about looking at network monitoring from a business perspective, nor is it is just about looking across the wide array of technology in terms of best practices and whether you are in alignment with those. No single ingredient of IT management on its own will provide a marriage between the technical analysis and the business analysis that business owners need to remain competitive. Network monitoring cannot be done in isolation. You must focus on the whole recipe, not one specific ingredient.
Typically, everyone in the industry does some level of remote network monitoring, some antivirus patching and the like. Everyone picks up the phone when you call them, some may take longer than others. It is not just the individual problems you are solving, however, and it's not just the ability to catch a problem before it happens. The goal should be to solve the problem before it happens or affects uptime.
When a business is able to take a proactive, rather than a reactive, approach to managing IT, then the focus shifts. Instead of worrying about server issues and network monitoring, they can focus on comprehensive planning that keeps problems from happening. If you approach your IT infrastructure from a point of view that dictates you look at a variety of technical details to ensure that you are getting what you are paying for, it will become the entire focus. Instead, focus on what you want your business to be able to do, and rely on your IT provider to implement a comprehensive plan that relieves the issues, aligns with your business goals and goes beyond putting out today's fires.
Key Takeaways:
Remote Network Monitoring works - but all it does is catch problems when they happen.
Having a good IT process in place means proactively solving/preventing problems before they happen.
If you're free from having to worry about day-to-day reactive problem solving, you can focus on running your business.