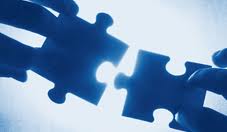 Most business owners realize they play a major role in choosing partners to provide the services they need, whether it's for information technology, logistics, sales leads, marketing or accounting. Oftentimes, though, the selection process becomes hurried, is limited to just a few referrals, or is delegated to someone who has little insight into the challenges that lie ahead. The consequences can be disappointing, both in terms of quality and overhead cost. Because the partners you choose can significantly impact your bottom line, your role should be squarely focused on "getting it right" when seeking out potential partners.
A common error in judgment when choosing a business partner is relying solely on personal referrals from those who are not amply qualified to make recommendations. Part of your role is judging the value of your referrals based on known parameters of experience, performance, and cost effectiveness. What I've noticed, however, is that potential clients are sometimes hesitant to have open discussions with recognized consultants regarding the pains they are experiencing. Unfortunately, the outcome is usually nothing beyond a temporary, band-aid solution, and the same problems as before will more than likely return.
Getting it right also means asking the right questions from both sides; it's a strategy that applies to you as well as the services you're considering. Professionals know what questions to ask, and your role is to place a value on their judgment. Conversely, third-party referrals are generally unfamiliar with your daily business operations. They don't know what questions to ask, and they don't know what services will best align with your company's goals. And yet, because of your personal relationship with them, you assume their recommendation must be good or one of value — even without any prior consultation or questioning regarding your organizational needs.
Moreover, the concept of "good" is both relative and subjective. Many business owners think of good in terms of the immediate cost, often overlooking the true cost of choosing the wrong partner or taking a reactive approach to resolving issues. Most business leaders don't want to waste time with a sales pitch; it's understandable. However, don't let that prevent you from considering the expertise of those who provide the services your or at least engaging in conversation about it.
In the end, your role in selecting the right business partners involves firm leadership and making value assessments based on your organizational goals and financial projections. Having open discussions and asking the right questions will help lead you to that optimum solution for your business needs.
Key Takeaways:
Your role in choosing business partners is judging the value of your referrals based on known parameters of experience, performance, and cost effectiveness.
Getting it right means asking the right questions.
Consider the true costs of the services you're engaging.