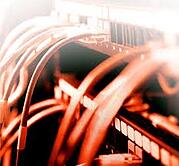 You've heard the cliché: "The greater the risk, the greater the reward." While that is a popular creed among venture capitalists and entrepreneurial businesses, most presidents and CEOs of small businesses prefer a sound program for managing capital expenditures, one that balances the fiscal risk of investment in business technology with a safe ROI.
In addressing capital management issues, first examine your company's performance goals. What is your company trying to achieve? How are you going to increase your bottom line? How do you plan on reducing overhead costs? All of these questions point toward the value of providing technology with high reliability and improved functionality, such as mobility and remote access that enables additional customer intimacy and faster responsiveness.
Of course, with capital investment in technology, it's not just a matter of cost. Moving to the cloud simply because it is the latest move by many businesses may not be the best investment for your company. You must also consider the risk of not making the right decisions in allocating company resources, including financial commitments and staff training. I recall talking with an IT manager of a company that employs about 125 people. She decided to deploy an IBM server for virtualization even though she really didn't have expertise in this area. Unfortunately, her decision resulted in a hardware acquisition that turned out to be the wrong server because it didn't meet the necessary requirements. This is just one simple example of a fiscal risk that lacks cost efficiency under the big umbrella of capital management.
However, in fairness to her and other IT managers, these days it is no easy task to have sufficient expertise across a broad set of company parameters and to always make the right decisions to rally a set of resources with processes and specialized expertise that are geared toward optimal results. The most prudent approach for mitigating the potential for risk is to engage in proactive capital planning and maintenance, including the elimination of capital expenditures where possible, to improve cost efficiency and curb profit loss. To this end, companies must always weigh their options of updating and managing their technology needs in-house or consider managed services from an outsourced professional.
One successful strategy for reducing capital spending losses is to mitigate IT inefficiencies through more standardization of processes and services and shared learning among technology users.
It is not always the actual acquisition cost of software or hardware that poses a risk problem. Sometimes the routine, ongoing operations are the culprit. With a repeatable, systematic IT process driven through standardization, you're going to be incredibly efficient.
You would be surprised of the significant cost of inefficiencies that occur in non-standardized technology environments. Larger organizations generally don't have these concerns, because they are major players in the technology community with super-experienced IT teams that are able to handle every problem that surfaces. That is not the case, however, for small- and medium-sized companies. They can't reap the benefits of staffing a large or experienced IT team, and there is no way they can be broad experts themselves in vital technology areas.
To illustrate this final point: if you are a CEO of a local health care provider and you have in-house IT, you must always ask yourself, "Is my role serving this medical facility, or am I in business as an IT company?" Once you make the right determination, it's simply a matter of allocating capital resources in a manner whereby IT inefficiencies can best be identified and resolved quickly, thereby preserving or improving your organization's bottom line.
Key Takeaways:
Standardization improves efficiency and lowers costs.
Taking advantage of IT management trends are only right for your business if the investment leads to better efficiencies, lower costs, and a measurable ROI on the investment.
If you're not in the business of providing IT services, partnering with someone who is can save you money in the long run.