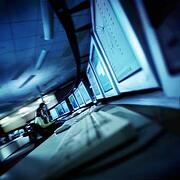 Many small businesses experience productivity losses due to poorly performing IT or outdated IT infrastructure. These losses are often hidden costs business owners and managers attribute to ineffieciencies in IT management. Since payroll costs are typically the largest expense for small business, the true cost of IT far exceeds the visible bills and budget idems association with technology.
The problem is that IT management for small businesses is often a reactive function, with managers spending much of their time responding to customer problems rather than proactively implementing comprehensive IT management solutions. A few hours of lost productivity may equate to hundreds or thousands of dollars per month above and beyond whatever is being spent on IT. As a result, business owners become frustrated by the cost of IT management without realizing the benefits effective management can offer.
While traveling and speaking with various business owners and IT managers, I've discovered that many small businesses don't have the time or the budget to proactively analyze their infrastructure. Instead, they tend to implement a patchwork of systems that allow them to inch forward without realizing the negative impact the approach has on productivity. Most small business owners also find it difficult to stay up to date on the most recent operating systems ad infrastructure changes that impact their business model. As a result, small businesses are often at a competitive disadvantage because there's no confidence in the technology.
Trying to understand how technology and technological infrastructure impacts your business starts with identifying the disconnect that exists between managing the business and managing the IT infrastructure of that business. Small business owners often don't have the budget to have a large IT department of their own. By identifying the challenges a small business faces with infrastructure, an IT managed services firm can be the bridge over the gap between the company's goals and its budget constraints, allowing the business to develop a comprehensive approach for solving the issues that result in better productivity at a lower cost.
Small business owners must stay focused on business growth and relationship development to remain competitive, and being slowed down by infrastructure challenges is frustrating. Effective, results-oriented managed services that eliminate or dramatically reduce productivity losses are a solution for many companies. Managed IT services firms bring a level of expertise and experience to the business that can manage the company's IT needs through the development of comprehensive processes for both the reactive and proactive components of IT.
Employing a Virtual CIO (vCIO) is an example of a proactive solution to align technology and business goals while ensuring profit and productivity. The benefit of managed IT services can be measured in employee productivity and how efficiently your IT is integrated with the overall goals of the business. Managing IT services effectively is not merely about the technology but the people behind it.
Key takeaways:
Small businesses without confidence in their technology are at a competitive disadvantage.
It's essential to bridge the disconnect that exists between the goals of the small business with its budget constraints.
The key to improving the performance is to have both reactive and proactive processes in place that offer comprehensive IT infrastructure solutions.