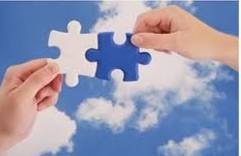 I was talking to a business owner the other day who asked me "If I'm in the cloud, what do I need IT services for?" Inwardly, I groaned, because this is a question I'm hearing more often these days – and it represents a misunderstanding about the 'magic' of cloud services. The cloud is powerful, and has the ability to save companies thousands of dollars on things like the upkeep of a data center, but ultimately it's just another deployment model. A deployment model with its own set of challenges, risks and questions that need answering.
The small business owners I've worked with over the years have a vast range of skill sets, but understanding the nuts and bolts of moving their IT to a cloud isn't regularly one of them. The problem is, moving to the cloud is not without risks. The wrong decisions could leave you without access to your data, limited processing power, or even over-spending on services you don't need. Deciding to move to the cloud is the first decision, but it's far from the last or even the most important. It's critical that you are sure to weigh every decision carefully and that your CIO be involved in every step of the process.
Of course, not every company has the skillset internally to answer those questions (or even their own CIO). Choosing to move to the cloud is strategic and can be made by weighing the costs and benefits, but handling the transition requires specific technical knowledge and guidance. What needs to be decided is if it's more cost-effective to try to learn that yourself, and to take the risks of the wrong decisions, or to find a resource who knows the challenges of such a transition.
If you're dealing with a cloud services vendor, they will no doubt tell you that they can provide just such expertise, and it is very tempting to rely on them. They are, after all, experts on cloud-based deployment. While I agree wholeheartedly that they have the skillset to answer your questions and guide you through the transition, I also think they are not impartial observers of your technical needs.
Businesses are busy places these days, with Directors and Executives often wearing many hats and making decisions based on limited information. This is especially true when the task in question has the aura of a 'magic bullet' that will solve so many problems. It's precisely those situations where you need to have an unbiased source of technical knowledge so that the right choices get made and you fully realize the advantages of such a transition. If you don't have the skillset internally, what's stopping you from finding the expertise externally?
And so I return to the conversation I had a bit ago, and this is what I would say: "You didn't need IT Services because you weren't in the cloud – you needed them to help you make the right decisions about your technology. Moving to the cloud doesn't eliminate those choices, it just changes them, and making them correctly is still just as important."
Next Month: The time to hire a CIO is now – but it doesn't have to be hard
Key Takeaways:
Cloud computing is just another deployment model
Moving to the cloud is not without risks
It is key to make the right decisions about technology, including cloud services