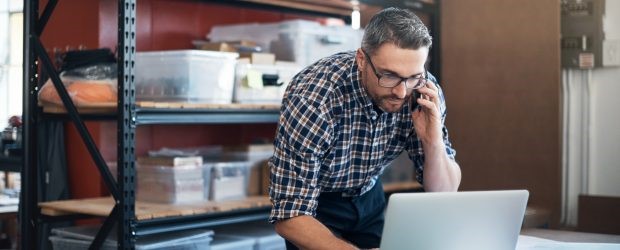 39% of small and medium businesses (SMB) experienced damage to more than half their systems
Damaged systems are among the top challenges SMBs face. According to a 2018 Cisco study, 39% of SMBs reported over half of their systems were damaged from a security breach, resulting in data loss and long periods of downtime. In fact, 40% of medium sized businesses reported they had experienced annually more than eight hours of downtime because of a serious breach. Just one hour of downtime costs a SMB $8,000 on average! Sometimes downtime from a breach is only temporary, but in other cases the outcome of a serious breach can be permanent (data loss).
Though seemingly intangible, data loss can have real consequences: decreased productivity, customer loss, reputation damage, and subsequent lost business opportunities. Employees may not be able to access certain files or applications, thereby preventing the organization from meeting deadlines or completing projects. The same Cisco report found 54% of cyberattacks on SMBs cost more than $500,000. Breaches are often preventable, and a good IT managed service provider can make sure your organization is following the industry's best practices to avoid future attacks. The problem with typical IT providers is that they are starting from the technology infrastructure rather than from businesses results.
39% of SMBs use a Managed Service Providers (MSP)
Around 40,000 MSPs span the country today—up from around 10,000 a decade ago. This fourfold rise in MSPs is indicative of higher demand for their services. One of the reasons why more businesses are using an MSP is because of inadequate in-house IT staffing. Every business wants world-class IT support, but maintaining a staff equipped to deal with a wide range of IT challenges is not always feasible, especially for smaller companies. Increasingly high labor costs and dwindling talent availability has made maintaining an in-house IT staff as much a challenge as addressing an organization's IT needs. A 2018 Cisco study revealed that if IT staffing were not an issue, 19% of businesses would be more likely to upgrade their endpoint security. Through economies of scale, MSPs are a solution to this staffing shortage. While an in-house IT department can play an important role for certain organizations, MSPs offer the benefits of specialization, a larger pool of IT resources, and a means of saving businesses money in the long term through proactive support.
76% of businesses report being a victim of a phishing attack.
Phishing is one of the oldest and most successful cyberattacks. What makes phishing attacks so successful is that victims often think they are following instructions from their superior or some trusted source. Many who work in an office have seen a phishing attempt: a vague, clumsily written e-mail asking employees to click on a suspicious link and fill out information. Filtering out these clunky phishing attempts is usually not a challenge, and often a company's email client is designed to catch these types of wide-net attacks.
But general, mass-email phishing attempts, though still occasionally successful, do not compare to the savvier spear phishing attacks that have caught the IT industry's attention. Spear phishing gets its name because of the narrow, targeted nature of its attacks. Infosec Institute notes 77% of spearing phishing attacks focus on only 10 email inboxes—33% target a single inbox. By reducing the number of targets, spear fishing campaigns bilk forty times as much from a victim compared to a general phishing attack. The problem with spear phishing attacks is they can get around traditional email filters. Therefore, it is critical to have a reliable process and have your organization's security protocols in line with industry best practices.