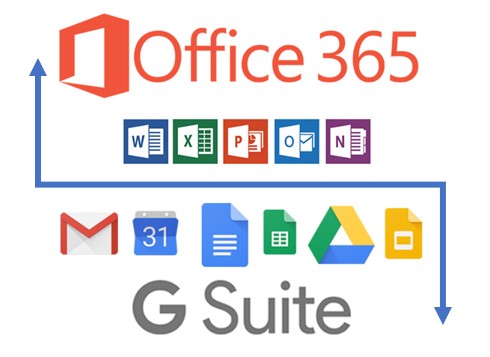 Whether to use Google's G-Suite or Microsoft's Office 365 is often one of the first decisions a small to medium business owner makes when moving to the cloud. Depending on the size, expected growth, and technical needs of the organization, what cloud platform one chooses may vary. Some of the most important factors to consider include security, collaboration, integration, functionality, and usability.
Security
When it comes to security in G Suite vs Office 365, the latter is superior. Both G Suite and Office 365 administrators can easily customize their security protocols to manage user access and permissions. Microsoft and Google also regularly update their respective cloud suites, keeping them secure. While Microsoft's Office 365 security has struggled in the past with threat detection, today Office 365 is on par with G Suite. Native detection systems of G Suite and Office 365 equivalently filter out malware, phishing attempts, and spam. One minor advantage of Office 365 is multi-factor authentication, whereas G Suite only has two-factor authentication. Perhaps G Suite's worst security fault is the platform's convenience: its wide-ranging connectivity with third party apps and extensions makes it a security risk because of the permissions it allows users to grant. By contrast, end users will be hard-pressed to find many things that are preconfigured to use Office 365 as a login.
Collaboration
Much of G Suite's reputation as the unrivaled service for collaboration is rooted in users' unfamiliarity with Office 365 collaboration tools. Despite these exaggerations, G Suite is still the better collaboration tool set. One common misunderstanding is that Office 365 users cannot simultaneously edit files in Excel or Word. Part of this misconception is due to Office 365's interface, which does not lend itself towards collaboration in the same way that G Suite's does. Office 365's offline capabilities can lead to users foregoing collaboration through the cloud; G Suite is cloud restricted. Granted, an organization may opt to not install desktop versions of Microsoft applications, avoiding this issue entirely.
Integration
Although Office 365 and G Suite are compatible with most other cloud services (SAP ERP, Salesforce CRM, etc.), G Suite encounters more issues than Office 365 when it comes to integration. A common problem when using Gmail is maintaining format fidelity when using third-party apps. For example, Gmail will sometimes change image position or font size of PowerPoint presentations. Pairing Excel with Gmail produces a similar issue: Excel tables lose their format when pasted to Gmail. Certain operating systems like Linux do not have an official client for Google Drive, and the same issue arises for browsers that do not pay Google's licensing. These are not issues with Office 365, which is why it is the standard in so many large organizations.
Functionality
Office 365 overwhelmingly wins in terms of functionality. SharePoint hosts an array of applications from Workflow, which automates many business processes, to dashboards that track an organization's KPI's. These features on SharePoint are noticeably absent on Google Sites. In terms of power, many of G Suite's apps cannot compare to Office 365's. Most notably, Excel has a multitude of data visualization tools, a robust capacity for handling large data entries, and numerous mathematical formulas for advanced calculations. Similarly, Word's myriad of ribbons and toolbars offers users a host of features that Google Docs simply does not have. Sheets and Google Docs are more limited in scope and are intended for more basic use and usually smaller organizations.
Usability
Despite Office 365's dominance as the standard in productivity solutions, G Suite's simplicity makes it better from a usability perspective. G Suite's smooth interface makes it easier to use out of the box. Recent changes to Skype's interface have made it difficult to use for some. Conversely, Google Hangouts has a smooth user experience, especially on mobile platforms. Another consideration to make when deciding between G Suite vs Office 365 is the demographic of your organization's employees. Older generations are much more familiar with Microsoft Office, but that is changing with the younger generation. Universities are increasingly relying on G Suite to collaborate. Therefore, millennials have become increasingly attuned to G Suites' features and may prefer it as a more familiar collaborative platform.
Conclusion
Looking at G Suite vs Office 365, it is necessary to consider the importance of standards. Even if G Suite may appear enticing because of its simple interface, it does not measure up to the comprehensiveness of Office 365. Not only is Office 365 the standard across most industries, but it is the most powerful productivity suite on the market. For small startups who only need basic functions, owners may feel more comfortable using G Suite. However, most small to medium businesses would benefit from using Office 365.
Key Takeaways:
Office 365 gives users less opportunities to compromise security.
G Suite's design makes it the ideal collaboration tool, but Office 365 has the same technical capacities for collaboration.
Office 365 will encounter less problems integrating with third party apps.
Office 365 apps are more robust.
G Suite has a more streamlined, user friendly interface.